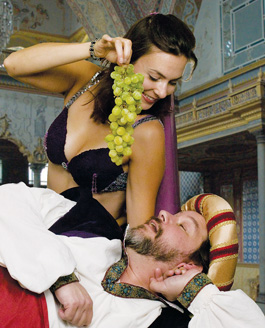 I went to see an opera tonight where VC's friend Indre (right, w/ fruit, w/o beard) was performing. Technically, The Rose of Persia is an operetta (due to spoken interludes), written by Sullivan after his Gilbert days had ended. The show runs through this weekend at the San Jose Lyric Theatre, and is highly recommended. Both of the female leads bring serious sonic artillery to the table – it's clear that they really could do evil with the (non-amplified!) power of their voices were they so inclined. The show didn't exactly meet my preexisting High Culture Expectations (though one dude there was wearing a tuxedo) but instead was good fun (your pick – clever wordplay, rampant drug abuse (by the characters, not the audience) and 19th century behavioral malapropisms). Here's a bit from a storytelling brainstorm session near the end, courtesy of The Gilbert & Sullivan Archive (running off a Boise State math server, naturally).
It is said a young lady named Muffet
(Selecting a seat on a tuffet)
Was breaking her fast
With a modest repast
When she suddenly fled from the tuffet!

She spied a she-spider beside her!
The spider beside her espied her!
Beside herself she
Would undoubtedly be
Having spied a big spider beside her!
Beside her!

Having spied a big spider, a spider beside her!
Have you heard of that horrible story?
I have — it's in my category!
And I!
So have I!
So have I!
So have I!
It's a horribly harrowing story!
Horribly harrowing indeed.